Relax and Unwind…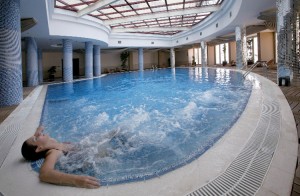 Indulge yourself in our state of the art SPA encompassing 3.500 sqm.
All of your needs will be satisfied here whether it is a relaxing massage, a soothing facial, a specific body treatment or a traditional Turkish bath.
For those who are keen to keep fit, you will find the latest equipment and training programs.
Come and experience the difference…
SAUNA
---
Sauna can be explained as DRY STEAM BATH and also known as FINNISH BATH. Saunas have low light. Where you can sit inside quietly and relax.
The temperatures are kept between 80-100 Degrees Celsius. It can help to get rid of toxins and other wastes to be disposed.
---
STEAM ROOM
---
Steam bath, wet or dry, defined as the easiest way to get rid of the toxins. By opening the little holes, millions of sweating nodes start to release sweat so that the body disposes metabolic and the others wastes.

---
JACUZZI
---
The most ideal application places for Jacuzzi are bath tubs, compact showers or Hydro Massage combinations adapted to massage pools named SPA. The physical and therapeutic effects of the water can be used at these combinations.
The Jacuzzi in AQUA VERDE has also Colour Therapy feature. It is also known as KROMOTHERAPY. Every single colour stands for a CHAKRA. The CHAKRAs are the energy centers of the body.

---
HAMAM – TRADITIONAL TURKISH BATH
---
Massage applied with soap bubbles and exfoliation removes off the dead skin layer so that opens the skin holes. That increases the effects of the further skin cares and the massage services. By using a fabric called KESE, all body will be peeled, and the soap-bubble massage applied afterwards. It is finished by washing off the whole body at the end of the service.

---
SHADIRVAN - OTTOMAN FOUNTAIN
---
Our Shadirvan is basically a relax room, decorated in the way of Ottomans. The voice of the fountain relaxes and calms your senses while you look at the colour therapy featured sealing. A total way of relaxing after the services…

---
INDOOR POOL
---
We invite you to visit our heated indoor pool with its spectacular mountain views.

---
RELAX ROOM
---
Feel the nature in our SPA relaxation room.
Relax with the views of the Mediterranean Sea and the mountains.

---